ADOTawsomeduooftoday is a cool guy and doesn't afraid of anything. Except branching out to games other than Mincecraft. So he decided to begin a Pokemon FireRed LP where he is soon to catch a Magikarp named Stelios after his real-life British lover. Although he doesn't currently consider himself a fully-smexy let's player due to excessive Minecraft, he sure as the smexy part. 
In West Indiana born and raised,
On Minecraft he spends most of his days,
And yeah he used to make Super Smash Four speculation videos before becoming a "pets-layer"-
GAWDDAMMIT DYSLEXIA.
But yeah he takes video requests so request him to play Slender about 50 times if you want to be original. His taste in games does range from Ghost and Goblins to Babysitting Party (although he hasn't admitted that one yet).
So go subscribe to him if you want to see a future LP'er grow some hair. Pls. But not Stiliose scale of course.
He's a rather unique personality too that distinguishes him from every other single American on the planet. He has connections. It may be with the mafia or famous Minecraft YouTubers but this is yet to be confirmed.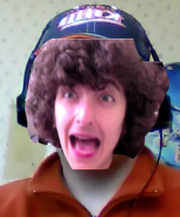 Just look how happy he is.
He's endangered.
"I already get all of the beaches."
"My underwear is riding up"
"Oh I can draw penguins reaaaal well" - Dylan Perkins
"I suck huge cock. I love fucking hot dudes"
He loves you.
i wish daddy would cum in my ears
Community content is available under
CC-BY-SA
unless otherwise noted.