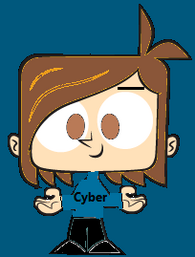 CyberHydro96 is a 12 year old Let's Player and probably the youngest one. He has a section in his channel where he plays Video Games in a very funny way.
History and Personality
Edit
CyberHydro was Born Fernando Abad in March 21st 2001. Around the time, his parents found out that his grandmother died three days ago. As Fernando grew up, he looked at the lifestyle of his surrounding and tried to make the best out of his little life. Fernando grew up playing Video Games (Super Mario, Sonic the HedgeHog, Kirby, Spyro etc.). He later moved and lived in a small city were he met VGPM and they became best friends. He later got a youtube and became more popular than VGPM. He's known to ragequit alot and is known to be one of the friendliest people you'll ever meet. He's the AttackingTucans/NintendoCaprisun of younger LP'ers. I swear Cyber entertains people with hilarious commentary from toddlers all the way to people that are in their late 60's.
Mario and Sonic at the Olympic Games: FINISHED
Disney Universe
Super Smash Bros Brawl: The Subspace Emissary
Mario Super Sluggers VERSUS
Community content is available under
CC-BY-SA
unless otherwise noted.