"Then we don't have to resort to bloodbending." -
Kwife going insane while playing Breath of the Wild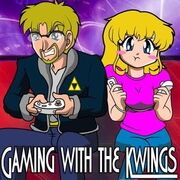 KwingLetsPlays is a group consisting of kNIGTWING01 (Luke) and his wife, KwifeReviews (Amber). They mostly play "everyone" and "teen" rated games, and the commentary falls mostly in the PG ratio. Luke & Amber generally play 2-player or cooperative games, though on occasion they do post single player games with dual commentary. The KwingsLetsPlays channel is 100% safe for kids & covers new & old games alike.
Personal Life
Lol hi
The Kwing's Let's Plays
Before 2012
2012
2013
2014
2015
2016
2017
2018
Youtube Channels
The Kwings actually have multiple YouTube channels for different content.
This is their main channel for gameplay and lets plays.
This is Kwing's main channel, used for Batman/DC Discussion and gameplay from the Rocksteady's "Batman Arkham" series.For adults
This is Kwife's personal channel, used for stuff like vlogs and occasional gaming live streams.
Community content is available under
CC-BY-SA
unless otherwise noted.