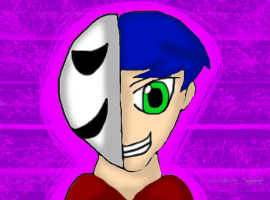 Lollmao5 is a let's player on Youtube, though not very well-known yet. His account has been on Youtube since 2007 and was previously a 'Youtube Pooper', when asked why he quit, he quoted 'I just didn't feel the same magic I felt when I made them before...that and I was tired of my stuff getting removed after all my hard work'.
His first Let's Play was on the 29th of July 2011, Persona 4, where his audio went wrong, though he kept it as he believed it fitted the video, as at one point he made fun of one character 'Igor', immitating his voice saying; 'It appears your recording won't go as planned...' thus Lollmao5 tagged the first part as 'Don't Argue Fortunetellers'.
What's rather interesting about Lollmao5 is that his voice wasn't monotone like most Let's Players do from the start, and though he isn't exactly the funniest most witty commentator at first, as time went on his video and audio quality got better, even including a 'Pun Counter' in his Let's Play of Persona 4 and strange yet fitting sound effects.
On the 4th and 5th of July Lollmao5 uploaded 'Let's Look at Resident Evil 6 (Demo)' which consisted of Lollmao5 playing the mentioned game for the first time while recording his commentary, though it seems like a 'Let's Try' or a 'Review' it's rather different...and not just because of the terrible video and audio quality.
Lollmao5 has hinted of Let's Playing Xbox 360 games in the future, but claims after 'testing' his capture card with 'Let's Look At Resident Evil 6 (Demo)' that it is not compatible with the system, and will not do future recording of any kind involving the Xbox 360 until he gets a better capture card.
Lollmao5 has also had a wide variety of co-commentators such as KoryEstFantastique, PinstripeParagon and ChiefScarneck.
At some point Lollmao5 planned to do a Let's Play Versus, though do to technical problems, personal problems and skill, this has been pushed back numerous times and projects have been trashed.
His intro was made by himself, though the music in the intro was performed/made by his friend CrackingLazer.
Lollmao5 hopes to host tournaments in the future for fighting games, such as Mortal Kombat, Persona 4 Arena, Soul Caliber 4 and more, no more information can be found at this time regarding this however.
List of Let's Plays
Edit
Persona 4 ~ 29th July 2011 - 10th September 2012
Super Smash Bros. Melee - 20th May
Metal Slug 3 ~ 20th June - 22nd June
Ratchet Gladiator - September 11th - Ongoing
'Catchphrases';Edit
"Awesome loading screen!"
"Kinda, maybe, sorta..."
"Son of a duck!"
"Son of a goat!"
"Overpower this boss in the nose!"
"Goat Grinding Grandma!"
"Cometh at me!"
"BUT!" -After some dialogue or text ends a sentence with 'but'.
"Woop woop woop!"
"D'oh I Missed!" - Quoting Wario (Mario Party/2) and The Runaway Guys
Community content is available under
CC-BY-SA
unless otherwise noted.