Robert Nemet (NemetRobert1996) is 16 year old romanian LP'er, who started his YT career on 4th of March, 2012. There are considerable delays inbetween upload dates, due to problems. Swearing is also not included in his videos, so he's safer for the younger generations.
Other players have joined him before; check the 'Co-op friends' section.
His nickname is "Robby".
Let's Plays
Edit
This guy playes any indie games that have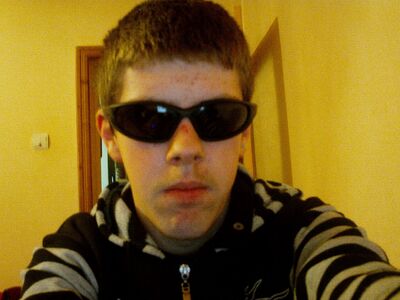 a good focus on horror. However, he's not given any suggestions, so he most likely misses a good game. If you have a suggestion, send a message to him. He replies to any message that gets to his mailbox
.
He has taken a liking for indie horror games like Survivers, SlendyTubbies, and the Slender games.
His videos are usually 20 minutes to 1 hour long. While nobody would watch them all, it's recommended to do so, as "fun" parts may be easily missed.
Reactions
Edit
He's not as entertaining as other players, but his videos are still worth a watch when you're bored. His reactions are not the best, due to a slight "immunity" to fear, but, when this is countered, a good reaction can be easily scored out of him. Chances are even higher when he's playing with others.
When he's unsettled, humour tends to set in slowly. He makes up his words randomly, usually resulting in some strange words (crackhead, teetus, etc.).
After a scare, he recovers within 1 to 7 seconds, and moves on.
Minecraft
Edit
Minecraft Part 1 - The fun is beginning! /w DZ
Reaction Compilations
Edit
Reaction Compilation #1 Reaction Compilation #2 Reaction Compilation #3 - Confirmed & coming soon!
Best Reactions Ever
Edit
Inculcation - Part 1 - Best Reaction moment is in description.
Co-op friends
Edit
DZ (PivotTheatre44) is a friend who has joined Robert in a video of the parodic game called "SlendyTubbies". He is also (apparently) "immune" to fear, although in a smaller percentage.
Looking at his profile, he lives in Hungary.
Hardarm (Hardarm98) is also a friend who has joined Robert more than once in his videos. First in Survivers, following in SlendyTubbies. There's no activity on the YT channel of this person, with the exception of one video with 650+ views.
He has a little trouble understanding Robby, and is making things take a humorous turn. He doesn't really heed Robby's warnings, resulting in some good reactions.
Survivers (Coop) - A fun ride.
Looking at his profile, he lives in Italy.
Community content is available under
CC-BY-SA
unless otherwise noted.