PartyCats is a fairly new channel, consisting of three close friends who play casual games free of stress. They are very weird and loud, but also family friendly and fun. They don't really make proper Let's Plays, but they do make short or medium length videos of games they enjoy. Their youtube channel can be found here: 
https://www.youtube.com/channel/UC6CTMn9kjhGwFudOKxpeYlg
Meow!

| No. of members | 3 |
| --- | --- |
| Creation date | Halloween 2015 |
| First video | Mario Kart Wii Video 1 |
| Latest video | PartyCats Game Night Special!!! (3 player Gameplay) |
| Subscribers | 6 |
| Videos | 29 |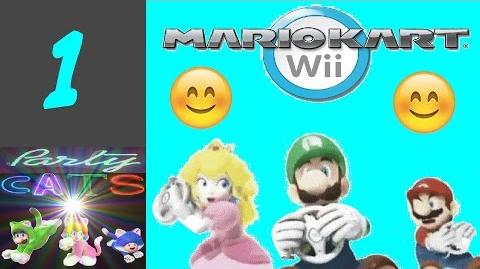 Group
The group consists of two girls named KittyMeow and Chickenwing, and a boy named PastaBoy. They only go by their nicknames. KittyMeow tends to meow, scream, sing or talk right into the microphone, PastaBoy tends to not talk much compared to the other two, and Chickenwing tends to talk a lot. They tend to be very loud, weird and crazy, but also family friendly. There also may be high pitched screaming in some of the videos, so be warned. The group always censor personal information if they accidentally say something they shouldn't (such as real names or their city/town).
From early 2016 to mid 2017, they have had personal issues which prevented them from having frequent meet-ups. However, their schedule is finally being put back into place. There will most likely/hopefully be videos recorded every 6 weeks. Their ages are secret but Chickenwing is the oldest member.
Games they play
The games the PartyCats play are mostly Super Mario titles, such as Mario Kart and Super Mario Maker. They play both multiplayer and single player games. If the game only supports 1 or 2 players, they take turns. Some videos may only have 2 members of the group in them, but most have all 3.
Games they have played so far
Note: Some videos contain more than one game.
Mario Kart Wii (7 videos)
Super Smash Bros for Wii U (3 videos)
Mario and Sonic at the London 2012 Olympic Games (3 videos)
Mario Kart 8 (5 videos)
Super Mario Kart (2 videos)
Super Mario Maker (5 videos)
Mario Party 10 (1 video)
Super Smash Bros Brawl  (1 video)
Mario Party 8 (1 video)
Mario Party 9 (1video)
Family Game Night (3 videos)
Bomberman Blast (1 video)
Mario and Sonic at the Olympic Winter Games (1 video)
Mario Kart 64 (1 video)
Mario Kart Games
Mario Kart Wii was the game they played in their first 4 videos. The game is one that they all have played in the past during their younger years. Later, PastaBoy and Chickenwing did a single episode of a Versus with the game, but the series never continued. A year later, they played the Mushroom Cup with all three members and the series has yet to be updated. In July 2017, they did a self imposed challenge video where they each played a course while blindfolded, with hilarious and fail results.
Mario Kart 8 was played online in December 2015, where they did a round robin type thing, taking turns due to the online play only supporting two players on one console. They later played 3 snowy/icy courses in their Xmas 2016 special, and two Yoshi courses in their 2017 Easter special.
Super Mario Kart is the oldest game on their channel currently. PastaBoy and Chickenwing decided to play it after buying it on Wii U Virtual Console 2 days after Christmas. They planned on doing Battle Mode but now they're not sure.
Mario Kart 64 was played in their Game Night Special for the second half of the video. Chickenwing finally taught Kitty and Pasta how to use GameCube controllers which they ended up having fun. They also played the Japanese version, though they do also own the English version on Virtual Console.
Super Smash Bros. games
The PartyCats played Super Smash Bros. for Wii U on November 1st 2015 and played their own created custom stages, including a bonus video at the end. In their Christmas 2016 special, they played Super Smash Bros. Brawl on the Ice Climbers stage.
Mario and Sonic Olympic Games
Chickenwing and PastaBoy played London 2012 during November 2015. In July 2017, they played the Vancouver Winter Olympics to celebrate Winter, with KittyMeow jumping in to play Dream Bobsleigh with them about halfway through the video. For PastaBoy's birthday special, they played London 2012 again with all three of them.
Super Mario Maker
Since KittyMeow and PastaBoy loved making custom stages in Smash Bros, Chickenwing knew she should ask for Super Mario Maker for Christmas. So she did, and KittyMeow and PastaBoy became addicted to making courses in it! Ever since then, they have made 3 normal videos of it near the beginning of 2016, and played it in both their Christmas special, where they each made/played a Xmas course, and their Easter special, where they each made/played an Easter course.
Mario Party Games
Shortly before Chickenwing's birthday in 2016, she suggested they play a Mario Party game on the day. They decided on Mario Party 10 and played a board of it in a video. They didn't play Mario Party in a video again until Easter 2017, where they played minigames from both Mario Party 8 AND Mario Party 9. In Mario Party 8 they just did free play while in Mario Party 9 they played Step it up mode.
Family Game Night
They played Family Game Night during their last recording session, where they had a very interesting game of Sorry Sliders, and a not as interesting game of Boggle. They also enjoy putting numbers as their names for some random reason XD
Bomberman Blast
When the PartyCats only had a few minutes before leaving Chickenwing's house, Chickenwing and PastaBoy recorded a quick short video of Bomberman Blast before Pasta and Kitty had to go.
Special Episodes
The PartyCats have special episodes on their channel as well as regular videos.
List of special episodes
Mario Kart Hyper Editions
Their 3rd and 4th Mario Kart Wii videos were both Hyper Editions, in which they eat a lot of candy beforehand and then play a game of Mario Kart; crazyness ensues. It is currently unknown, even by the members, if they will be able to make more hyper editions or not.
Halloween Specials
Chickenwing of PartyCats hopes to make specials for holidays, including Halloween. So far, they have created 2 Hyper Edition episodes as their first Halloween Special. Their channel was also created on Halloween.
Christmas Specials
KittyMeow considers their Mario Kart 8 videos to be Christmas specials, since they were created around Christmas.
In December 2016, a Christmas special was created, consisting of Mario Kart 8, Super Smash Bros Brawl, and Super Mario Maker.
Birthday Episodes
The PartyCats are also doing birthday specials. So far they have made one for Chickenwing, in which they played Mario Party 10. Chickenwing has decided that whoever's birthday it is gets to decide the game they play in the special.
Easter Specials
April 2017 a video was uploaded to celebrate Easter. It is the longest video on their channel so far and consists of four games; Mario Party 8, Super Mario Maker, Mario Kart 8, and Mario Party 9.
Bonuses
At the end of a few videos, there were bonuses.
Super Smash Bros for Wii U
This video's bonus was a weird funny replay of the PartyCats playing a stage filled with cannons, in which people kept getting stuck in them.
Super Mario Maker
In the second video, PastaBoy played a block filled stage named "Impossible".
Mario Party 10
In Chickenwing's birthday special, they added in their practise take at the end, consisting of hilarious chicken noises as backup to the Happy Birthday song.
Characters
Chickenwing
Toad (Icon, Mario Kart Wii, Super Mario Kart, Mario Party 10, Mario Party 9, Mario Kart 64)
Fat Fancy (Mario Kart Wii)
Kirby (Super Smash Bros for Wii U)
Tails (Mario and Sonic at the London 2012 Olympic Games, Mario and Sonic at the Olympic Winter Games)
Yoshi (Mario and Sonic at the London 2012 Olympic Games, Mario Kart 8, Mario Kart Wii, Mario and Sonic at the Olympic Winter Games)
Mama Italiano (Mario and Sonic at the London 2012 Olympic Games)
Mario (Mario Kart 8, Super Mario Maker)
Light Blue Yoshi (Mario Kart 8)
Ice Climbers (Super Smash Bros Brawl)
Toadette (Mario Kart Wii, Mario Party 8)
Lemmy (Mario Kart 8)
Birdo (Mario Kart Wii)
9 (Family Game Night)
Black Bomber (Bomberman Blast)
Amy (Mario and Sonic at the Olympic Winter Games)
Wario (Mario and Sonic at the Olympic Winter Games, Mario and Sonic at the London 2012 Olympic Games)
Dr. Eggman (Mario and Sonic at the Olympic Winter Games)
Silver (Mario and Sonic at the Olympic Winter Games)
Blaze (Mario and Sonic at the Olympic Winter Games)
Bowser Jr. (Mario and Sonic at the Olympic Winter Games)
Big Bea (Mario and Sonic at the London 2012 Olympic Games)
KittyMeow
Peach (Icon)
Fat Fancy (Mario Kart Wii)
Toad (Mario Kart Wii, Mario Party 8)
Zero Suit Samus (Super Smash Bros for Wii U)
Yoshi (Mario Kart 8, Mario Party 9, Mario Kart 64)
Mario (Mario Kart 8, Super Mario Maker)
Rosalina (Mario Party 10, Mario Kart Wii)
Black Yoshi (Mario Kart 8)
Meta Knight (Super Smash Bros Brawl)
Hermione (Mario Kart Wii)
Librarian (Mario Kart 8)
8 (Family Game Night)
Blaze (Mario and Sonic at the Olympic Winter Games)
Chief (Mario and Sonic at the Olympic Winter Games)
Wut (Mario and Sonic at the London 2012 Olympic Games)
Dr. Eggman (Mario and Sonic at the London 2012 Olympic Games)
Fancy Guy (Mario and Sonic at the London 2012 Olympic Games)
Donkey Kong (Mario and Sonic at the London 2012 Olympic Games)
PastaBoy
Luigi (Icon, Mario Party 10, Mario Kart Wii)
Big Bea (Mario Kart Wii)
Toad (Mario Kart Wii)
Bowser Jr (Super Smash Bros for Wii U, Mario Kart Wii, Mario and Sonic at the Olympic Winter Games)
Ness (Super Smash Bros for Wii U replay)
Silver (Mario and Sonic at the London 2012 Olympic Games, Mario and Sonic at the Olympic Winter Games)
Sonic (Mario and Sonic at the London 2012 Olympic Games, Mario and Sonic at the Olympic Winter Games)
Yoshi (Mario and Sonic at the London 2012 Olympic Games, Mario Kart 8)
Mario (Mario Kart 8, Super Mario Maker)
Koopa Troopa (Super Mario Kart, Mario Party 9)
Red Yoshi (Mario Kart 8)
Green Meta Knight (Super Smash Bros Brawl)
Dry Bones (Mario Party 8)
Black Yoshi  (Mario Kart 8)
Rocky (Mario Kart Wii)
6 (Family Game Night)
White Bomber (Bomberman Blast)
Shadow (Mario and Sonic at the Olympic Winter Games, Mario and Sonic at the London 2012 Olympic Games)
Knuckles (Mario and Sonic at the Olympic Winter Games)
Metal Sonic (Mario and Sonic at the Olympic Winter Games)
Peach (Mario and Sonic at the Olympic Winter Games)
Waluigi (Mario and Sonic at the Olympic Winter Games, Mario and Sonic at the London 2012 Olympic Games)
Bowser (Mario and Sonic at the London 2012 Olympic Games)
Lipstick (Mario and Sonic at the London 2012 Olympic Games)
Wario (Mario Kart 64)