PartyCats is a fairly new channel, consisting of three close friends who play casual games free of stress. They are very weird and loud, but also family friendly and fun. They don't really make proper Let's Plays, but they do make short videos of games they enjoy.
Meow!

| No. of members | 3 |
| --- | --- |
| Creation date | 31/10/15 |
| First video | Mario Kart Wii Video 1 |
| Latest video | Mario Party 10 Special Episode!! |
| Subscribers | 5 |
| Videos | 19 |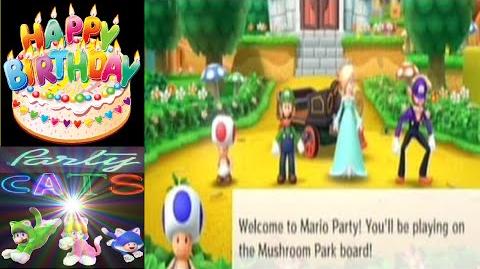 Group
The group consists of two girls, Chickenwing and KittyMeow, and a boy named PastaBoy. They only go by their nicknames. KittyMeow tends to meow or talk right into the microphone, PastaBoy tends to not talk much compared to the other two, and Chickenwing tends to talk a lot. They tend to be very loud, weird and crazy, but also family friendly. There also may be high pitched screaming in some of the videos, so be warned. The group always censor personal information if they accidentally say something they shouldn't (such as real names or their city/town).
Games they play
The games the PartyCats play are mostly Super Mario titles, such as Mario Kart and Super Mario Maker. They play both multiplayer and single player games. If the game only supports 1 or 2 players, they take turns. Some videos may only have 2 members of the group in them, but most have all 3.
Games they have played so far
Mario Kart Wii (5 videos)
Super Smash Bros for Wii U (3 videos)
Mario and Sonic at the London 2012 Olympic Games (2 videos)
Mario Kart 8 (3 videos)
Super Mario Kart (2 videos)
Super Mario Maker (3 videos)
Mario Party 10 (1 video)
Special Episodes
The PartyCats have special episodes on their channel as well as regular videos.
List of special episodes
Mario Kart Hyper Editions
Their 3rd and 4th Mario Kart Wii videos were both Hyper Editions, in which they eat a lot of candy beforehand and then play a game of Mario Kart; crazyness ensues. It is currently unknown, even by the members, if they will be able to make more hyper editions or not.
Halloween Specials
Chickenwing of PartyCats hopes to make specials for holidays, including Halloween. So far, they have created 2 Hyper Edition episodes as their first Halloween Special.
Christmas Specials
KittyMeow considers their Mario Kart 8 videos to be Christmas specials, since they were created around Christmas.
Birthday Episodes
The PartyCats are also doing birthday specials. So far they have made one for Chickenwing, in which they played Mario Party 10. Chickenwing has decided that whoever's birthday it is gets to decide the game they play in the special.
Versus
Mario Kart Series Versus
This is a series being planned, with only one episode currently released. The series will most likely consist of 2/3 members racing in 2 copies of Mario Kart Wii, two consoles (Wii and Wii U), two computers, and two Dazzle capture cards, along with videos of comparisons between tracks from different combinations of two Mario Kart games, including Mario Kart Wii, Mario Kart 8, Mario Kart DS, Super Mario Kart, and Mario Kart 64. Check back with us at a later point in time to see if we have uploaded them yet.
Bonuses
At the end of a few videos, there were bonuses.
Super Mario Bros for Wii U
This video's bonus was a weird funny replay of the PartyCats playing a stage filled with cannons, in which people kept getting stuck in them.
Super Mario Maker
In the second video, PastaBoy played a block filled stage named "Impossible".
Mario Party 10
In Chickenwing's birthday special, they added in their practise take at the end, consisting of hilarious chicken noises as backup to the Happy Birthday song.
Community content is available under
CC-BY-SA
unless otherwise noted.