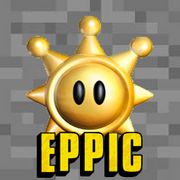 "Hi YouTube and welcome back or we are starting!"
"Hey everyone TheEppicGamer here, but you guys can just call me Rob."
Robert is a 15 year old guy from New York, USA. He is best known for his series "Graalian's Language". He is also a video game collector and enthusiast. He enjoys playing games with his friends and he loves meeting fans. Some games he is fan of are Minecraft, Graal Online Era, Super Smash Bros Series, Call of Duty Series, Super Mario Series, Sonic the Hedgehog Series, The Borderlands Series, The Halo Series, and The Pokemon Series.
Rob used to have an old channel that eventually encouraged him to start this new, better channel. He also likes to take suggestions from his small, but growing, audience. Some of his friends featured in videos are Michael, LordofLPing, Alex, Kawaii Microwaves, Vincent, Jared, and more.
TheEppicGamer Eppic Show[]
-Click the view the playlist for each game-
Current Playthroughs[]
#1 Super Mario Galaxy(Jared) September 8, 2014-Ongoing
#4 Luigi's Mansion(Justin) October 31, 2014-Ongoing
Finished Playthroughs[]
#2 Kirby Air Ride(Alex) September 25, 2014-November 25, 2014
#3 Mario Kart Double Dash!!(Vincent) September 27, 2014-November 20, 2014
One-Offs[]
Skull Girls(Diego)
Let's Plays[]
-Click to view the playlist for each LP-
Current Let's Plays[]
None
Finished Let's Plays[]
.#1 Minecraft (PC Version) October 20, 2013-February 12, 2014(Unfinished)
#2 Super Mario Sunshine (GCN)  March 19, 2014-July 1, 2014(Unfinished)
#3 Borderlands (Xbox360,PS3,PC)  March 31, 2014-May 1, 2014 (Unfinished)
Current Series[]
-Click the Links to go to the series playlist-
Quotes/Moments[]
"Hi YouTube and welcome back or we are starting" (Graalian's Language)
"Hey everybody TheEppicGamer here, but you guys can just call me Rob" (assorted videos)
"<3q" (Graalian's Language)
"UOLOSLI" (Graalian's Language)
"And now it's time for the poet of the week..." (Graalian's Language)
"Go to your cage" (Minecraft)
"Hitpussy" (Minecraft)
"Why don't we just keep whining" (Minecraft)
"That's supposed to be a triforce" (Halloween Special 2013)
"LENNIE" (Random Flash)
"SUE AMAE THE FOX SAYS PAPAPAPAPA" (Making the Leader Boards)
"It took a Shine Scholar to figure that out!?" (Super Mario Sunshine)
"Rico the Whore-Bear" (Super Mario Sunshine)
"Angle the Hedgehog" (Borderlands)
"FREE PIZZA!!!!!!!!!!!" (Borderlands)
"I put jizz in my hair" (Super Mario Sunshine)
:TALK DORTY TO ME!" (Graalian's Language)
"Hi I'm Daisy" (The Race to Mario Kart 8)
"ONE MILLISECOND! I LOST BY ONE MILLISECOND!" (The Race to Mario Kart 8)
"How you Doin'" (The Race to Mario Kart 8)
"Yep, people are broken." (Graalian's Language)