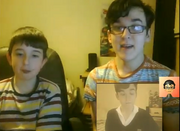 The Gamin' Dudes HD is the Collaborative Channel in the place of Epic-Gamerz 921 between DaNintendo, Blade Cat and NSSXCreationz on YouTube
The Gamin' Dudes HD (formerly Epic-Gamerz921) was re-founded in 2013-2014 after Epic-Gamerz921 closed down
Current Series
Edit
Dare Series (Official): The Main focus for the Collab Channel until DaNintendo is able to record gameplay on consoles. The dares are issued through YouTube Comments. (Also formerly Daniel's ask.fm) Link: https://m.youtube.com/playlist?list=PLtaJ79m7HbN-DNqK0XvH0qpKZZf5RFjUX
https://www.youtube.com/user/GaminDudesHDOfficial
This is the second time that the Gamin' Dudes have rebooted due to technical difficulties. But they were allowed to get the URL changed after their reboot.
The Gamin' Dudes HD Members
Edit
DaNintendo
Edit
DaNintendo is the founder of The Gamin' Dudes HD. With the original idea of creating of the collaborative channel, he was inspired so from WiiAreAnItem and Versus.
Daniel is the editor of the channel's videos and the channel's website.
Blade Cat
Edit
Reece is the silent type of person in the videos. That is all.
But he does tend to ramble on, see his 'Vlog #2 - With DaNintendo' video to see evidence of this.
NSSX Creationzz
Edit
Andrew is the member that is the cleanest (language-wise). His main channel has been inactive for quite some time.
Andrew is also the member that is the most reliable to get in touch with via YouTube Comments.
Social Links
Edit
Channel: https://www.youtube.com/user/GaminDudesHDOfficial Twitter: Facebook: Website:
Community content is available under
CC-BY-SA
unless otherwise noted.