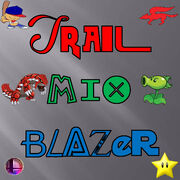 TrailMixBlazer
is an lesser-known American Let's Player, with just shy of 1,000 subscribers. He uploaded Episode 1 of his first Let's Play,
Backyard Baseball 2001
, on September 19th, 2011. He followed up this Let's Play with his second project,
Star Fox: Assault
. After this, he announced a Let's Play of
Pokémon Ruby Version
. although he did not start this Let's Play for another seven months. In this time, he created a
Super Smash Bros. Brawl
tournament series, the "World Cup of Brawl", as well as co-hosting
MrGameandPichu
's own tournament, LagFest. TrailMixBlazer also runs a series with his brother, DarthDudicus, called "Bro vs. Bro". This series features the two brothers playing against each other in various video games. He also posts videos of himself playing multiplayer games with friends from time to time.
Though his subscriber count was less than 1,000 as of October 2014, TrailMixBlazer's video Mario Party 3 - Luigi Wins By Doing Absolutely Nothing has exceeded 1,000,000 views. TrailMixBlazer records console gameplay using a Dazzle DVC 100, intending to purchase an HD capture device in the future. He also owns a Nintendo DS capture card. He uses a Plantronics gaming headset to record audio, as well as a Blue Snowball for group recordings.
Let's Plays
Edit
Unfinished/Canceled Let's Plays
Edit
Other Projects
Edit