Zenvious started his channel in April 2015, focusing predominantly on adventure/story-based games that can be purchased from Steam (with the idea that any game he plays, any viewers should be able to have access to purchase themselves).
Zenvious is an Australian with a background in performance, digital media, arts, and teaching. He has played video-games almost his entire life, and maintained a constant interest in most things geeky and nerdish. Despite being in his 30's, he retains a passion to watch cartoons intended for younger audiences.
While qualified to be a Drama/english teacher, Zenvious always found the current education system confined and lacking, and his true passion had always been in entertainment.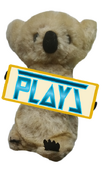 Zenvious uses his teddy bear Squeeky as the show's mascot and "editor". This allows him to interact with someone other than the game to bounce thoughts off and to have someone be in charge of editing afterwards to create the illusion of being separated from editing his works (despite the fact he does it all himself).
Squeeky is a Koala-plushy (who insists he is a Drop Bear) with a squeeky toy inside which earned its name. Zenvious has owned Squeeky since he was 6-months old; making Squeeky toy as old as Zenvious himself!
The implementation of Squeeky was to allow Zenvious an off-camera interaction despite running his show alone. The idea of doing so came from Zenvious enjoying the Game Grump's interaction with their editors - Barry and Kevin - and wanted to re-implement the same convention in his own work.
Shout Outs
Edit
Zenvious has already been recognized by fellow Youtube uploaders who have promoted and complemented his work. Current uploaders who have promoted him include:
Software
Edit
Zenvious uses:
Bandicam for recording gameplay and commentary (initally used OBS and Audacity)
Adobe Premiere for editing
Handbreak to compress videos if needed
Hardware
Edit
Zenvious employs:
An MXL Tempo Compressor Microphone
A Samson HP10 Headset
Zenvious' online inspirations include:
James Rolfe (Angry Video Game Nerd)
Doug Walker (the Nostalgia Critic)
Egoraptor (Game Grumps)
Markiplier
Septiceye
Game List
Edit